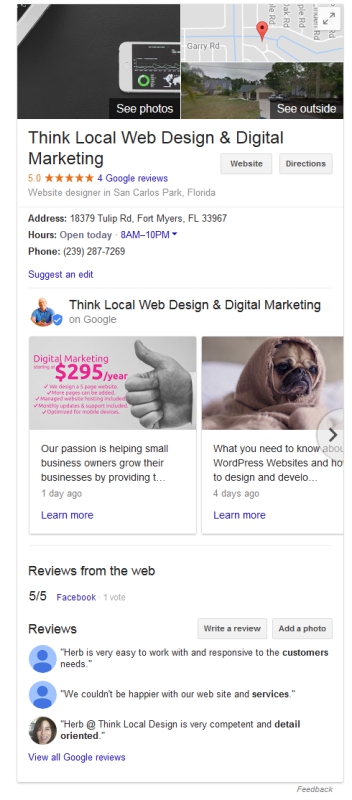 Digital Marketing Strategies
Your WordPress website is the foundation of your digital marketing strategy. Digital Marketing is content driven. Search engines find you online when you share your new exciting products and services with the world. Best practices for search engine optimization are at the core of your digital marketing plan. Key phrasing analysis is crucial to determine relevant content and display it to prospective customers.
Google Business Listing
Next we can develop a Google business listing which will cross publish your products and services.  It is vital that you are creating new posts on Google business which give exposure to new product offerings, specials or more information about your company.When users Google search your company you want maximum exposure and encourage organic leads vs. Cost per Click campaigns.
Online Reviews "This is Important!"
One of the primary determining factors a potential customer will use is your online business reviews.  People may be hesitant if you don't have any positive online reviews.  Search engines like Google also use 5 star online reviews  and SEO rankings to determine whether or not your business listing is relevant to the user.  Search engines favor business with a higher number of 5 star online reviews.
Bing and Yahoo Business Listings
Both of these companies are important and should not be overlooked. There are a considerable number of users actively searching for your business online.  To find out more about Search Engine listings check out this article on Search Engine Optimization 101.
Facebook Business Listing
Google Search Engines also look at your Facebook business listing.  Facebook reviews are also important just like Google reviews.  On search results both Facebook and Yelp Reviews will be prominently displayed.  Facebook is also important for cross posting your products and services.  Read more about Facebook ads small business marketing here.
Email Campaigns
Email campaigns when done properly can encourage repeat business from existing customers.  It is far more cost effective to keep your current customers than spend marketing money searching for new customers.  If you are in the service industry keeping front and center in your client's mind is important not only for repeat business but also referrals.  Referrals are King!